Reliable reputation. Quality products. Excellent service.
Protect your assets without attacking your budget.
Meet Our Team
Get a Quote
Jeff Van Matre Insurance Agency
Jeff Van Matre Insurance Agency offers protection to individuals and businesses in Carrollton, TX, and the greater Dallas-Fort Worth area. Being an independent insurance agency allows us to focus on the needs of our client, not the individual sale.
You do not have to worry about being an insurance expert. Our team of seasoned associates are here to be your advisors, to walk you through the complicated world of insurance. As your advisor, we can build a relationship with you, and inform you about your unique risks while offering comprehensive insurance solutions to help protect you from the unexpected and plan for the predictable.
We are here to ensure you have the right protection for your assets so you can enjoy life at ease. Read more about us!
  Get Your Insurance Quote
As an independent agency, we are here to help you find the right coverage.
The Advantage of an Independent Agency Working for You
What makes our independent agency different?
We represent multiple insurance companies.
We are licensed insurance advisors.
We are by your side every step of the way.
We offer a wide variety of insurance solutions.
We are there for you in your time of need.
Find Out How
2017 Recipients Best Insurance Agency by Carrollton Leader
2017 Certificate of Appreciation by Carrollton, TX
2018 Best Insurance Agents in Dallas by D Magazine
Members of The Society of Certified Insurance Counselors
2018 Recipients of Safeco Insurance Make More Happen Award
Don't Forget About Our Referrals
A referral is the highest compliment. See how you can benefit.
Learn More
Real clients. Real reviews. Real coverage.
"Hands down excellent customer service and always willing to go the extra mile to make sure we have the best rate out there. We have been customers for many years and wouldn't go anywhere else!"
– Allyson Grinstead
Our Clients Rave About Us
Check out our reviews and see why you should switch to Jeff Van Matre Insurance Agency.
"I recently switched over my insurance. Best decision I ever made! I was very impressed with the service I received. They were friendly and quick to meet all my needs, but most importantly, I was able to save money."

Nicole White

Personal Insurance Client
"Jeff is a fantastic agent, and his ability to shop for your needs amongst multiple carriers guarantees his ability to find the absolute best rates. I've used his agency for all my policies. I'm happy to recommend him and have done so previously to family and friends who have also received excellent results."

Jason Schmidt

Personal Insurance Client
"They have a great staff and are always willing to help with any questions or a specific need. I've reached out to them, and they have been great. Genuinely personalized service that you will not find at other agencies."

Wanda Meyers

Personal Insurance Client
Read More Reviews
What Makes Jeff Van Matre Insurance Agency Special
Here's what sets us apart when it comes to serving your insurance needs.
Community Focused
We give back to our community and get involved with the charities we support.
Clients Come First
We go the extra mile to exceed your expectations, no matter what you need.
Experienced Agents
With extensive experience, we understand what it takes to bring you quality coverage.
Click it. Read it. Cover it.
Get a glimpse of the risks you face and how your insurance can protect what matters most.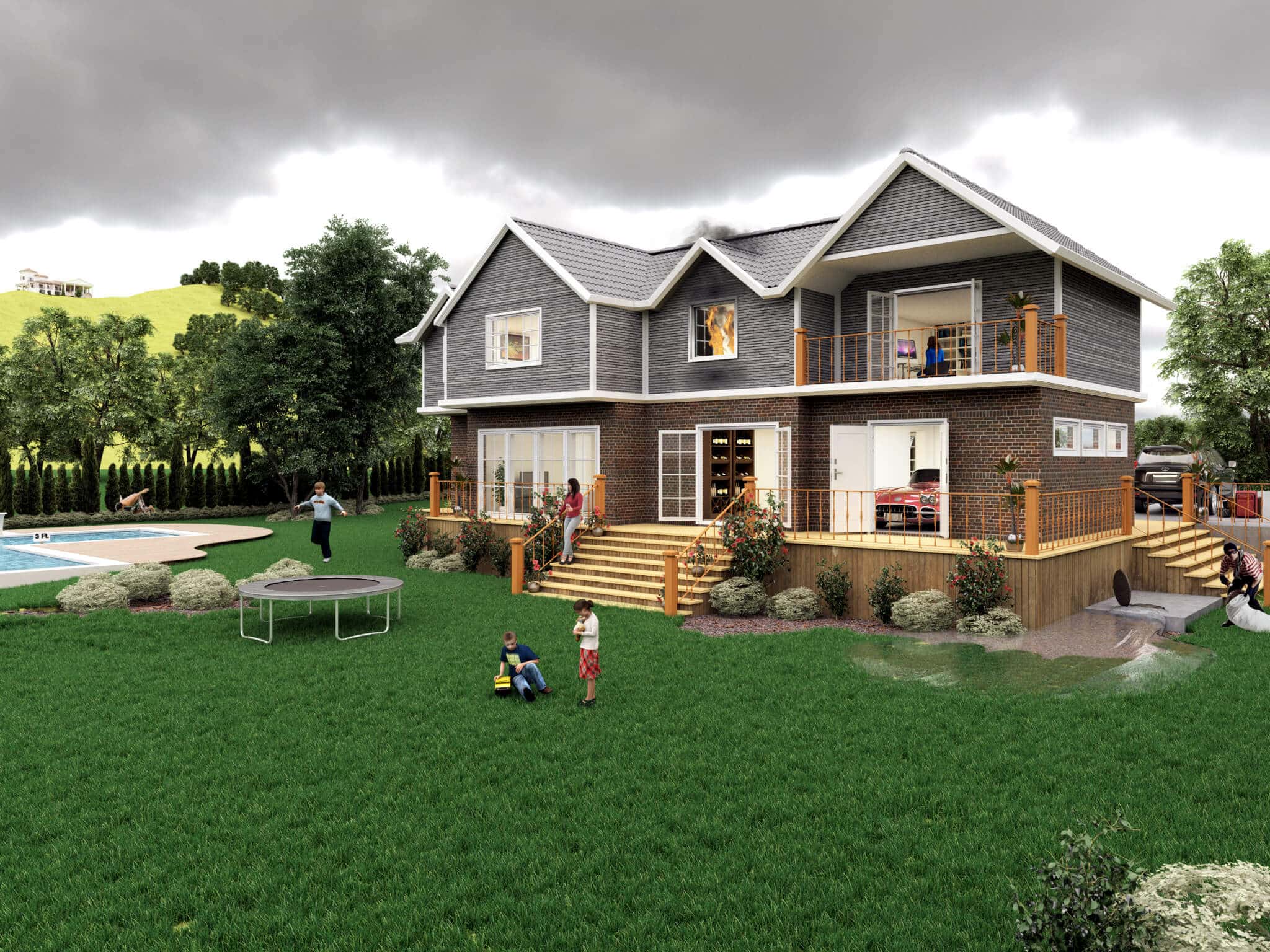 Fire
Risk Factor
Most fires are devastating. Besides the emotional impact, the physical damage to your home can be significant. If you lost your home to fire, do you have adequate insurance to replace your home and its contents? Remember, inflation rates on building materials and construction costs rarely track with real estate values. As a result, rebuilding a home can often cost significantly more than expected.
Solution
Be sure to look for coverage that will account for replacement costs above the actual value of the home due to increased costs for building materials and construction. Also, local ordinances and building codes tend to change over time, which may require additional expense. Talk to your agent to find out what's available for your home.
Personal Property / Contents - Property Damage
Risk Factor
When your home suffers damage due to an unexpected event, your personal property is also at risk. Furniture, appliances, clothing, electronics, and other personal items can also be damaged or destroyed.
Solution
Your homeowners insurance policy typically covers personal property, including the contents of your home and other personal items owned by you or family members who live with you. Make sure your homeowners policy includes replacement cost coverage for personal property so that you always receive the full cost to replace whatever item is damaged.
Additional Living Expense / Loss of Use
Risk Factor
When there is substantial damage to your home due to unexpected events such as lightning, fire, or a storm, you may not be able to live in your home until it can be repaired or rebuilt–potentially incurring additional living expenses for lodging, food, and other daily needs.
Solution
Ensure that your homeowners insurance policy provides additional living expense or loss of use coverage to compensate you for the additional costs you incur for reasonable housing and living expenses if a covered event makes your house temporarily uninhabitable while it's being repaired or rebuilt.
Jewelry, Fine Arts, and Collectables
Risk Factor
If your diamond ring disappears or valuable artwork is stolen, your standard homeowners policy may not compensate you for the loss. Homeowners policies include coverage for your belongings and personal property, but some special items like jewelry, furs, silverware, antiques, collectibles, and other valuables have limited or no coverage and need to be insured separately.
Solution
Valuable possessions insurance covers personal property that may have unique value, cannot be replaced like regular personal property or is subject to special types of losses such as breakage or mysterious disappearance. For most valuable possession categories, there is no deductible applied at time of loss. Valuable possessions insurance can be added to your homeowners policy or may be written as a separate policy.
Medical Expenses
Risk Factor
If a guest is injured while on your property, even when it's due to a friendly game of baseball, you may be required to pay any medical expenses associated with their injury.
Solution
Your homeowners policy should include medical expenses coverage to take care of injuries and treatment - generally not of a serious nature. In the event a person is injured on your property and requires medical attention, you would be able to submit the injury-related medical expenses to your insurance carrier. Medical expenses are usually paid without a liability claim being filed against you.
Personal Liability
Risk Factor
In the unfortunate event that someone slips and falls while on your property, you and your family may be held liable for any injuries that result.
Solution
Your homeowners policy includes personal liability coverage to respond to incidents where injuries or damages occur to a third party where you may be deemed negligent. However, you should consider purchasing a personal umbrella or excess liability policy to provide additional coverage limits to protect your assets in case a lawsuit is brought against you.
Miscellaneous Coverage
Risk Factor
The fun that comes with having a trampoline in your backyard can also be accompanied by serious risks, which may not be covered under your standard homeowners insurance policy since coverage varies from state to state and between insurance companies.
Solution
You should make sure your homeowners insurance policy covers your trampoline, as many insurance providers refuse to take on trampoline liability and exclude the item from coverage.
Personal Injury
Risk Factor
Young people are usually very active online. However, using social media and other sites can increase the possibility of them directly or indirectly damaging someone's reputation and exposing you, the parent, to a lawsuit.
Solution
Your homeowners insurance policy includes liability coverage for property damage caused by any member in the family, but it may not cover rumors or statements that damage a reputation. You need to add an endorsement to your policy to expand coverage to include liability protection that covers personal injury.
Umbrella / Excess Liability Coverage
Risk Factor
You invite guests over for a pool party and one of your guests dives into the shallow end of the pool and is permanently injured. They hire a lawyer to represent them and after a long legal battle, you and your family are left financially responsible for their injuries. Do you have enough money in savings to cover your legal responsibilities as well as the legal defense costs?
Solution
An umbrella or excess liability policy increases your personal liability limits by adding protection over and above your current auto, boat, or homeowners policies-providing real financial value, as well as priceless peace of mind. Excess liability insurance is available either by an endorsement to your homeowners policy or available as separate coverage.
Flood Coverage
Risk Factor
You do not have to live near a body of water to suffer loss due to flooding. With the changing weather patterns and more damaging storms occurring around the globe, flood losses are becoming more common in places that are not normally prone to flood damage. Your homeowners policy does not cover damage from flood. Could your home be at risk?
Solution
Purchase a flood insurance policy to protect your home and covered contents from certain types of flood losses as designated by the National Flood Insurance Program. A flood policy is purchased as a separate policy through the federal program (NFIP) or through a servicing carrier known as a write your own carrier.
Secondary Home
Risk Factor
Owning a secondary home has the potential of increasing your liability exposures.
Solution
Be certain that you extend the liability coverage under your homeowners policy to include your secondary home. You should also consider including the secondary home under an excess liability or umbrella policy to provide for additional liability limits.
Collector Cars
Risk Factor
Collector vehicles often have significant value and require specialized insurance coverage and claims handling.
Solution
Schedule your collectible vehicle on a separate collector car policy. By doing so, you are protecting the vehicle for either the appraised value or market value.
Wine Collection
Risk Factor
If you are a connoisseur of wine, you know that it is susceptible to outside environmental exposures that can ruin it. If the collection is damaged, coverage from your homeowners policy is a possible recourse. However, the damage is only insurable if it is a covered cause of loss as outlined in your homeowners policy. A deductible would also apply.
Solution
If you have a sizable wine collection, you may want to consider scheduling the collection on your homeowners policy. Doing so expands your coverage and eliminates the deductible in case of a loss. You can also consider unique coverages for wine, such as for spoilage.
Water Backup
Risk Factor
Most homeowners policies exclude coverage for water back-up damages as a result of a clogged drain, sewer, or sump pump.
Solution
Water backup coverage can be added to most insurance policies. Consider adding it so that you have the coverage you need in the event of damages caused by a clogged drain, sewer, sump pump, and related risks.
Off-Premises Theft
Risk Factor
Surprisingly, standard auto insurance does not cover personal property or contents stolen from your car.
Solution
Most homeowners policies offer an option to include off-premises theft coverage as an endorsement, which covers you for theft of your personal property away from your residence.
Home Insurance 101
Make sure you cover the unique risks you face with home insurance.
Click on the hotspots.

Discover your risks.

Get the right coverage.
  Contact Jeff Van Matre Insurance Agency
As an independent agency, we are here to help you find the right coverage.
1930 East Rosemeade Parkway, Suite 211
Carrollton, TX 75007
Contact Us